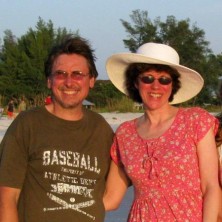 Donald and Teresa Bader
Chinese University Students
cell: 414.339.9377
Email: donaldbader@usmissions.org
Mailing Address
W51N178 Fillmore Ave
Cedarburg, WI 53012
USA
Intercultural Missionary to Milwaukee
Our Family: Don and Terry Bader
Terry – works part-time in a grocery store  Prepares lots of meals for students!
Krissy – is an LPN working toward her RN license
Jenny – works full time washing dogs
Ministry Experience: 
Assistant Pastor in Kingsford, Michigan for 3 ½ years (1988 – 1992)
Assistant Pastor in Port Washington, Wisconsin for 3 ½ years (1992 – 1996)
Pastor of Praise Assembly of God in Beaver Dam, Wisconsin for 7 ½ years (1996 – 2003)
US Missionaries in Milwaukee, Wisconsin since 2003
Education:  
Don earned a Doctor of Ministry degree in 2009 from Liberty University in Virginia.
What is our affiliation?
We are U.S. Missionaries with the Assemblies of God.  We serve under Intercultural Ministries, a division of U.S. Missions, specifically focused on "Chinese Ministries."
Where do we serve?  
 Currently, our ministry is in schools in southeastern Wisconsin
What is our ministry emphasis? 
To establish friendships with students and scholars in the Milwaukee area so that we have an opportunity to share Jesus with them and then prepare them to share Jesus in their own nation.
What is our ministry philosophy?
We believe that effective ministry begins first with a sincere and intimate relationship with God. So personal prayer, intercessory prayer, and Bible study are vital and thus our primary focus. Then, from our time spent with God, He then works through us to serve students and scholars, establish friendships, and make Jesus known through our deeds and words. He opens their  hearts by His Spirit, enables them to understand the Christian message, and plants His Word in their lives. Thus we help sponsor campus outreaches, give away Bibles and other Christian material, share our salvation testimony, strive to connect students to a local church, and teach  English classes and Bible studies.
Address
11530 West Layton Avenue
Greenfield, Wi   53228